Dolce Strings Suzuki Group Classes are open to Suzuki violin, viola, cello and bass students, of all ages and levels, from pre-twinkle through Book 10, currently studying with a Suzuki Teacher. In addition to class, we have numerous group performance opportunities throughout the year, both formal and informal, including community service opportunities as well. Repertoire includes music from the Suzuki Literature, traditional Texas fiddle tunes, etc. Any non -Suzuki music will be provided after your application is received. Instruction in theory and musicianship will also be included.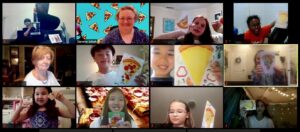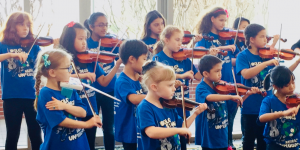 If you would like Dolce Strings to perform for your organization, please contact us. We are always excited to have a new performance venue!
If you are a Suzuki Violin, viola, cello or bass student, we invite you to join us! Our group classes are a long-term opportunity to learn and perform with an ensemble year-round.
Currently all classes are in-person but we will have simultaneous options for online participation with Zoom.
Click here for a printable calendar and enrollment form
Group Class Schedule (Central Time – Houston)
Mondays
   5:30-7:00pm – all ages, levels and instruments
In-Person Location:
Christ Church Sugar Land, 3300 Austin Parkway, Sugar Land, TX 77479
Downstairs in the Choir Room/Music Hall
Online Option:
For our out-of-town friends and those more comfortable online, we will also have simultaneous participation online with Zoom. Contact us for the link.
Tuition
Monthly: $71.00 (Sept-May)
Fall: $265.00   Spring: $295.00
School Year: $495.00 (Sept-May)
Summer: TBA
**Tuition includes classes, and concerts. Also snacks, when we are in-person. Fees for theory books, HMTA Theory Test, McKenzie's Workshop, etc. not included in tuition. 
Schedule
Fall
Sep. 27
Oct. 18, 25
Nov. 1, 8, 15
Dec. 6, 13
Spring
Jan. 24, 31
Feb. 28
Mar. 7, 28
Apr. 4, 11, 25
May 2, 9, 16
Concerts and Events:
October
1 – First Friday Fiddle Jam
November
5 – First Friday Fiddle Jam
December
3 – First Friday Fiddle Jam
4 – Academy Recital
19 – Christmas Group Concert
January
7 – First Friday Fiddle Jam
24 – Music Theory Night
31 – HMTA/TMTA Theory Test**
February
4 – First Friday Fiddle Jam
28 – Project Night – Get Crafty With Music
March
4 – First Friday Fiddle Jam
25-26 – McKenzie's Fiddle & Suzuki Workshop in Burleson, TX**
April
1 – First Friday Fiddle Jam
TBA – Community Arts Showcase Concert
May
6 – First Friday Fiddle Jam
14 – Academy Spring Recital
21 – Group Concert
Summer Session: TBA
**Please note, some events may have additional fees
Other events
Dolce Music Academy solo recitals, master classes and other events are open to group class participants. For some events, there may be an additional fee.
STXSA-Southeast Texas Suzuki Association events are open to group class participants. Those events are not listed on this calendar. Please  visit www.stxsa.org for an event listing and to become a STXSA Family Member online. STXSA event discounts are available for STXSA Family Members.
Group class participants are also invited to participate in the HMTA/TMTA Theory program, including the yearly Theory Test, if they wish.
We are members of the Suzuki Association of the Americas (SAA), Southeast Texas Suzuki Association (STXSA), American String Teachers Association (ASTA), Houston Music Teachers Association (HMTA), Texas Music Teachers Association (TMTA), and Music Teachers National Association (MTNA). Our students may participate in all eligible events offered by those associations.
Curriculum
The music curriculum in the Suzuki Method books and CD's will be used in addition to supplementary materials. Western swing fiddling repertoire and other musical styles in addition to classical will be incorporated. Ear training, note reading, music theory, ensemble playing, recitals, performances, etc. will be addressed.