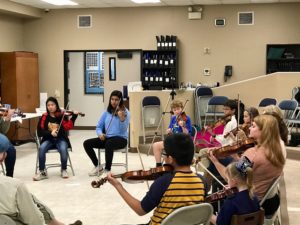 First Fridays Fiddle Jam
Come on down to the choir room at Christ Church Sugar Land on the first Friday of the month (most months) for some fiddletastic fun! A fiddle jam session open to everyone of all ages, all levels of experience, and all instruments. We welcome violin, fiddle, viola, cello, bass, guitar, melodica and more! If you can play it, come join the circle. We are jamming Western Swing style, just like Bob Wills did, Deep in the Heart of Texas. We'll Boil The Cabbage, and take a spin to Tennessee Waltz with Li'l Liza Jane before we get those Milk Cow Blues and have to head on home. 
Time: 6:45pm-8:45pm
With a snack break sometime in the middle. we'll play it by ear… LOL
Click here for a printable flyer
Schedule:
September 6
October 4
November – no jam this month!
We are all going to the Bob Wills Fiddle Festival and Contest in Greenville, Texas, Nov. 1-2.
Want to join us? Contact us for details.
December 6
January 10 We know it's the second Friday, but we needed a few days to recover from New Year's!
February 7
March 6
April 3
May 1
Summer Schedule: TBA We were going to take a break in June, July and August, but let us know if you are interested. We might be persuaded to add some more…
Fee:
$10.00 suggested donation. No charge to sit in, but your $10.00 per person donation each Friday would be most appreciated to help us cover our expenses.