Meet our 2019 Region/All-State Workshop Faculty
Ruth Bacon Edewards, violin
Ruth Bacon Edewards is in her seventh season as a core violinist with the Knoxville Symphony.  She began her violin studies at the age of four in her native New Mexico.  Some of her best musical memories were made in the Albuquerque Youth Symphony program, which toured in Europe and Mexico when she was in high school.  Ms. Edewards went on to study Suzuki Pedagogy in undergrad and violin performance in graduate school, receiving her Master's of Music from the Cleveland Institute of Music in 2010.  She was a Tanglewood Music Center Fellow for two summers, and she toured internationally with Star Wars in Concert. In addition to orchestral playing and teaching private students, Ruth loves chamber music and is a member of Inner Voices String Quartet in Knoxville.  She spends her summers teaching as a guest clinician for summer violin camps and playing Principal Second violin with Ash Lawn Opera in Charlottesville, Virginia. She and her husband, Dr. Ace Edewards, live near Downtown Knoxville, where they enjoy drinking good coffee, exploring historic neighborhoods, hiking in the Smokey Mountains, and cuddling with their two orange tabbies, Hastings and Poirot.
Katie Magill Carrington, viola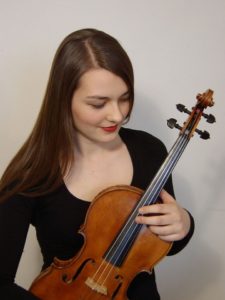 Violist Katie Magill Carrington hails from Chicago, IL, where she studied with Mr. Michael Hining.  While under his tutelage, she soloed in Carnegie Hall with the Windy City String Ensemble, in which she also served as principal violist.  Katie also won the Illinois Wesleyan Concerto/Aria competition and recognition at the Chicago Viola Society.  In 2003, Katie began studies at The Juilliard School with Heidi Castleman and Hsin-Yun Huang.  She has been invited to the Aspen Music Festival as a fellowship student twice and also traveled to China with the Juilliard Orchestra.  After her Bachelor's Degree was conferred in May 2009, Katie matriculated at Rice University to study with James Dunham and received her Master of Music degree in May 2011. For the past two years, she has taught in the CyFair ISD, Klein ISD, and KIPP schools in Houston. She is a registered Suzuki Violin teacher for violin and viola, for which she studied with Judy Bossuat-Gallic. Katie now plays in the Louisiana Philharmonic Orchestra in New Orleans and maintains a private studio. She recently was appointed the Artistic Director of the Greater New Orleans Suzuki Forum. Having been blessed with exceptional teaching, Katie strives to provide the same to her own students.
Meredith Harris, viola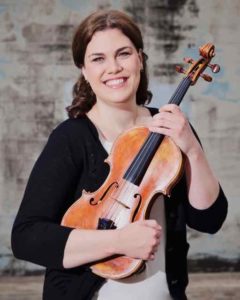 Meredith Harris, a native of North Carolina, currently lives in Houston, TX where she enjoys an active performing and teaching career. Ms. Harris received her Bachelors of Music degree from East Carolina University with Ara Gregorian and her Masters of Music in viola performance with James Dunham at Rice University. She received her long term Suzuki violin teacher training under Joanne Bath at East Carolina University. Ms. Harris enjoys performing with the Houston Symphony, Houston Ballet, Houston Grand Opera, and River Oaks Chamber Orchestra. Ms. Harris has been invited to various festivals across the United States including Tanglewood, the Grand Teton Music Festival, Kennedy Center Conservatory Project, Spoleto, Las Vegas Music Festival, and the North Carolina School of the Arts Summer Program. During the summer she enjoys teaching at various Suzuki Institutes and performing. Meredith is currently serving as the Southeast Texas Suzuki Association (STXSA) Chapter President.
Elisabeth Hope, violin
Elisabeth Hope grew up as a "Suzuki kid" in Albuquerque, New Mexico, and she treasures fond memories as a member of a Suzuki studio and violin tour group.  Mrs. Hope obtained two bachelor degrees (in music and communications) from George Mason University and a master's degree in music from the University of Houston.  She and has been featured as a soloist with the Albuquerque Youth Symphony, George Mason Symphony Orchestra, George Mason Chamber Orchestra, and Kingwood Pops Orchestra.  Mrs. Hope is in demand as a freelancing violinist in addition to running a thriving private studio in Dickinson, TX, where she offers private lessons, group lessons, and numerous recitals and concerts in exciting locations around the community.  Mrs. Hope is also a founding faculty member of the Dolce Strings Touring Ensemble, Houston's premier Suzuki tour group.